BREAKING: NNPC Introduces New Fuel Price Nationwide, Ends Subsidy (Read Details)
The Nigerian National Petroleum Company (NNPC) Limited has officially announced the new price range for Premium Motor Spirit (PMS), commonly known as fuel or petrol. CONTINUE READING…
POLITICS NIGERIA reports that the prices have been fixed at N488 and N555 per litre at the peak, effectively marking the end of the fuel subsidy era.
This decision follows shortly after the newly elected President, Asiwaju Bola Ahmed Tinubu, declared the termination of fuel subsidy in Nigeria.
Earlier, This newspaper highlighted the growing indications of an imminent spike in petrol prices, with a leaked document revealing a troubling retail price of over N500 per litre. CONTINUE READING…
This revelation had thrown the downstream sector of Nigeria's petroleum industry into confusion.
This newspaper learnt that during a meeting held by NNPC stakeholders on Wednesday morning, it was agreed upon and approved by the management to revise the NNPC PMS pump price table for Mega/Standard/Leased Stations.
Subsequently, all marketers were instructed to adjust the retail prices of petroleum products across different states.
Previously, it was assumed that the fuel price would be determined at a later date. However, the management has now rolled out a new table of retail prices for various geopolitical zones in the country, directing marketers to implement the changes immediately from Wednesday, May 31, 2023.
In an official statement to the press, the management stated, "Please implement meter change as approved, effective today, May 31, 2023. Wayne is to attend to all locations as relates to their area of coverage in our network."
As per the revised price schedule, the highest petrol prices will be seen in Maiduguri and Damaturu, where it will be sold at N557 per litre. In the rest of the Northeast zone, the price will be N550 per litre.
Benni Kebbi will witness the highest prices in the Northwest zone, purchasing petrol at N545 per litre. The North Central zone is set to experience an average price of N537 per litre, with the exception of Illorin, where it will be sold at N515 per litre. Consumers in the Southeast region can expect to pay an average of N520 per litre.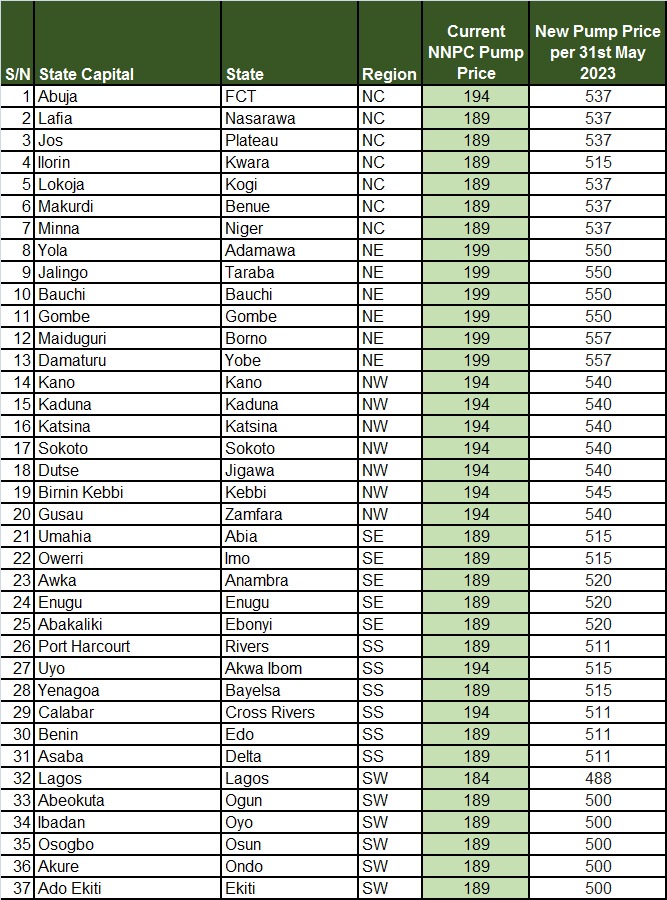 With the exception of Uyo and Yenegoa, where petrol will now be priced at N515 per litre, the rest of the Southsouth zone will receive the product at N511 per litre.

Consumers in Lagos will enjoy the lowest price, as petrol will be sold at N488 per litre. The rest of the Southwest zone will have access to the product at N500 per litre. CONTINUE READING…