I Always Have Sèx With Mad Women Every Friday To Keep My Wealth Flowing – Yahoo Boy Confesses
A 30-year-old man named Silas Ade has been apprehended by detectives of the Lagos State Police Command. He is accused of engaging in sexual activities with mentally ill women on the streets. CONTINUE FULL READING>>>
And he was reportedly caught attempting to force himself on a pregnant mentally ill woman named Christiana inside an uncompleted building. The incident took place in Isheri Olofin along the Igando-LASU highway, leading to the Iyana Iba area of Lagos.
According to reports, this was not the first time Silas had been suspected of such behavior. The residents had previously noticed his suspicious activities with mentally ill women in uncompleted buildings and decided to investigate their suspicions. CONTINUE FULL READING>>>
When Silas took Christiana into the building and began to undress, he was caught by angry residents who subsequently handed him over to the police.
Silas, who is suspected to be involved in internet fraud (commonly known as "yahoo yahoo" in Nigeria), was paraded around the community before being taken into police custody for further interrogation.
During questioning, he confessed to the police, stating that he engaged in sexual activities with mentally ill women every Friday as part of a money ritual to maintain his wealth.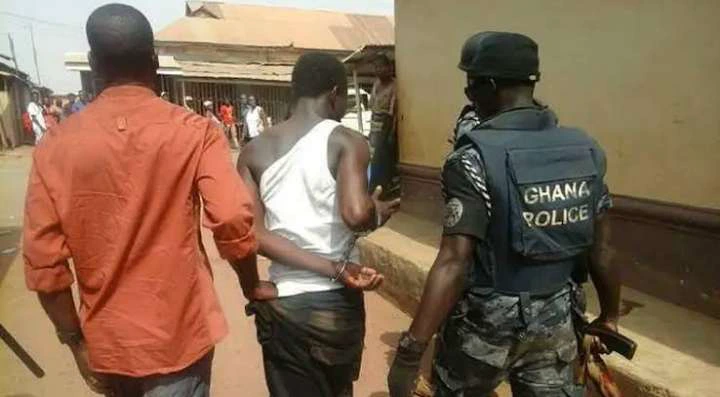 The police public relations officer expressed shock over the incident, emphasizing the alarming trend of young boys being arrested for involvement in ritualistic practices. The police will continue their investigation into the matter.
According to the internet fraudster Silas " I sleep with mad women every Friday to maintain my wealth" He made this confession while been paraded at the State Police headquarters. The police public relations officer who confirmed the incident expressed serious shock over the incident saying that the level at which young boys are been arrested for ritual making is really alarming. CONTINUE FULL READING>>>