Looking Forward to the 2021 Grammy

"Delta's Official GRAMMYs Party 2019" by DeltaNewsHub is licensed under CC BY 2.0
The Grammys are a big event we look forward to all year long. It is not only the competition. It is not only seeing our favorite stars get rewarded for their hard work and talent. It's not even just the eye-popping and inspirational performances that are guaranteed every year. It is also about coming together and celebrating art and community.
That is why the 63rd annual Grammy Awards set for January 31, 2021 are sure to be different. With social distancing likely to still be an important health recommendation, the organizers will have to get creative. And so will we! Let's look at how we can best enjoy the coming awards show and look at some of its other rocky moments in the past.
They Will Announce Nominations Shortly
They are set to announce nominations later this month. Once you have that list in your hand, you can start to make predictions about who will win which category. This is a good way to extend the fun and competition beyond the actual night of the awards ceremony. In fact, you can find an online sports betting site that also features entertainment betting and crank up the excitement even more.
You can also include your friends in on this friendly competition. Remember, they will announce the nominations on November 24th. You can root for your favorite artist, or make strategic choices based on what you think the academy themselves will decide.
Get in on the fun early. But remember, there will always be surprises. Last year Lizzo was nominated for some of the biggest awards out there, but only won awards that were not televised. Billie Eilish ended up sweeping most of the categories where they were both in the running.
The Grammy's Complicated Relationship to Hip Hop
Speaking of not airing certain categories: The Grammys have suffered through previous crises as big as COVID before. For example, in 1989 Will Smith refused to attend the Grammys even though he ended up winning the award for Best Rap Performance.
At this time, rap was new to the Grammys, and they had decided not to air that category. Many at the time, including Smith himself, saw this as racist. It was seen as a sign of disrespect to a nascent, Black art form.
This problem continues to plague the Grammys. As late as 2017, the hash tag #GrammysSoWhite was collecting steam and putting pressure on the awards program. This is part of a wider movement protesting who is valued, represented, and invited to the Grammys.
That year, at the 59th Grammys, Adele won all five categories she was nominated for. She beat Beyoncé in the three they shared, including Best Album and Best Song. Looking back, it is clear which of these albums has had lasting impact musically and, more broadly, culturally.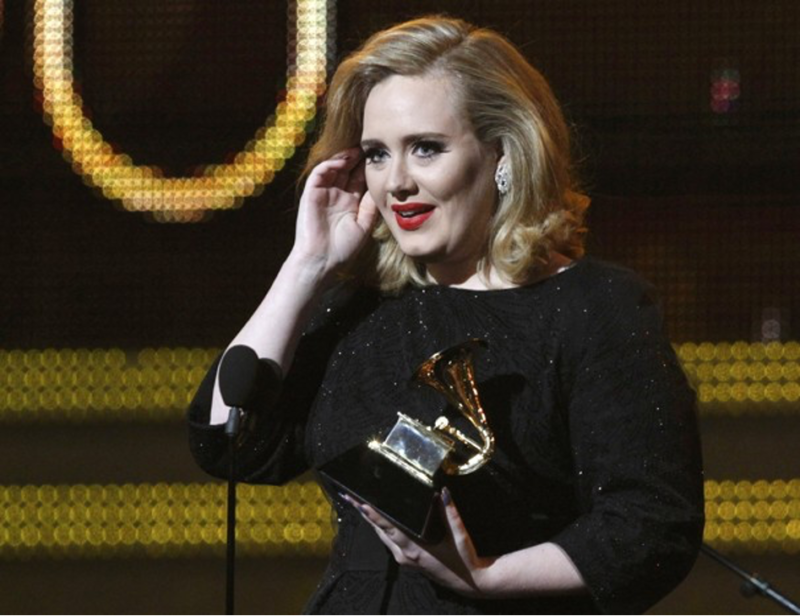 "Adele" by JBPress is licensed under CC BY-NC-SA 2.0
With the Academy Awards setting gender equity standards for all movies that are nominated, it is easy to imagine the Grammy's starting similar initiatives. One sign of this is that the recording industry has established the Black Music Collective.
How Others Have Handled Covid
The Grammys will not be the first major awards show to make a production during this global pandemic. The 72nd Emmy Awards we held on September 20,2020. Hosted by Jimmy Kimmel, the show was widely recognized as successfully reimagining the awards show keeping in mind social distancing.
The programming combined sparse live appearances on stage with live streaming from different contestant's homes. Not even the contestants knew who was going to win beforehand, yet they miraculously delivered their trophies in real-time.
As of now, the Grammys have not announced their plans for holding their ceremony in the times of social distancing. We do know that Harvey Mason Jr. will announce the nominees during a livestream event. This tells us that they are taking the health situation seriously. As we get closer to the date and can better imagine the state of the pandemic for the event, they will release more specific plans.