parastatals CEOs are warns in Lagos against default in remitting workers' contributions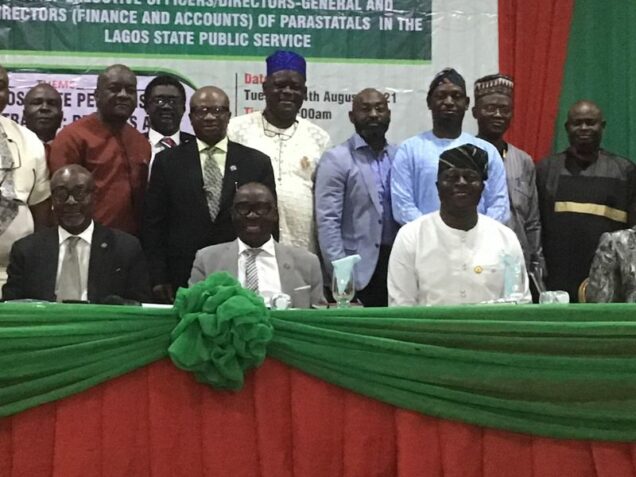 L-R sitting: Biodun Bamgboye, Dr. Onayele Abiodun and Babalola Obilana, with other top government officials at the event.
24th August, 2021
The Lagos State Government has warned Chief Executive Officers (CEOs) of parastatals against default in deducting and crediting workers' contributions to their pensions' accounts in accordance with the pensions law.
Commissioner for Establishments, Training and Pensions, Mrs. Ajibola Ponnle disclosed this on Tuesday at a sensitisation workshop for CEOs/Directors of Finance and Accounts (DFAs) of government parastatals on Lagos State Pension Law Administration 2007: Process and Sanctions for Defaulting Agencies, held in Ikeja, Lagos.
Ponnle, who was represented by the Permanent Secretary, Office of Establishments and Training, Dr. Onayele Abiodun, lamented that the government, through the CSPO has had to contend with unending request for bail out on payment of pensions and gratuities of retirees who retired from these parastatals, saying that the issue had been recurring despite full payment of subventions to these agencies that were expected to deduct workers' contributions and credit their pensions' account in accordance with the Pensions' Law of 2007.
She said it had become necessary to sensitize CEOs and DFAs of government owned agencies/parastatals on the requirements for processing of workers benefits and sanctions for non-compliance with Pension Law of 2007 and that it was expected that after the sensitization, parastatals leadership would no longer hide under the cloak of ignorance of the law.
"Over the years, there has been series of requests from the parastatals for bail out from the state government to fulfill their statutory responsibilities despite subventions being paid. This has led to employees not being paid their bond years after retirement. This had led to embarrassments to the State Government.
"In a bit to forestall this ugly trend, the Civil Service Pensions Office, with the collaboration of Parastatals Monitoring Office has organized this workshop to sensitize the CEOs/DFAs and Directors (Finance & Accounts on the provisions of the 2007 Pensions law as it applies to their responsibilities on payments of Pensions of staff," she said.
Ponnle added that the sensitization was also to explain the implications of defaulting, stressing that the workshop was organised to ensure that all parastatals pay as and when due.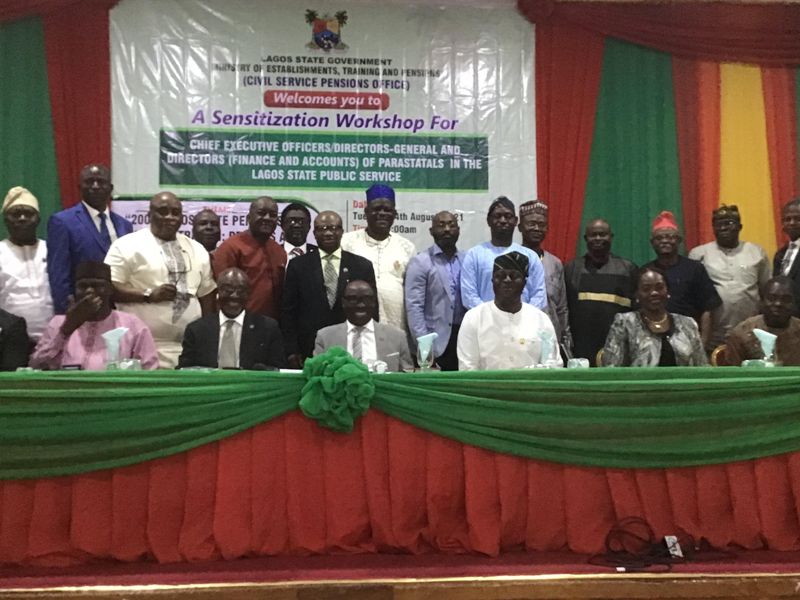 According to her, the trend had become so worrisome and embarrassing to the state government in view of the fact that the administration of Governor Babajide Sanwo-Olu did not treat with levity, matters that concerned pensioners.
"This workshop is to sensitise the management of these parastatals on the 2007 Pensions Law which makes provision for the contribution of employers and employees of the state government to be remitted for the retirement benefits of staff.
"So, the government is advising and employing all parastatals be alive to their responsibilities and ensure remittance of deductions in accordance to the pension law of 2007," she stated.