Burna Boy tours Lekki palatial home U.S. magazine [Video]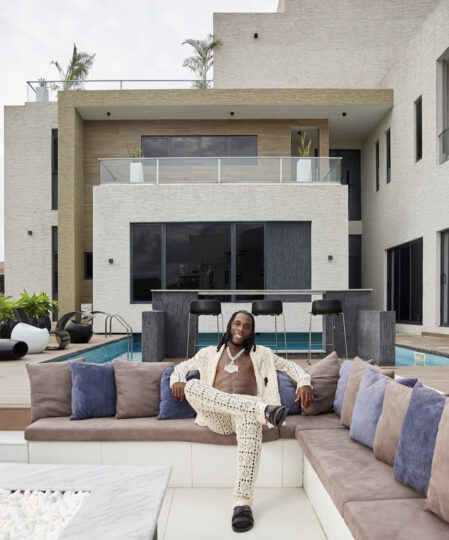 Burna Boy in his palatial home
Grammy award-winning musician, Damini Ebunoluwa Ogulu popularly known as Burna Boy has given a sneak peek into his luxury mansion in Lekki, Lagos.
Burnaboy gave Architectural Digest a tour around his Lagos home, revealing it was in the home he created his Grammy-winning album 'Twice as Tall'.
Architectural Digest – an American monthly magazine founded in 1920 whose principal subjects are interior design and landscaping – has also done features on the homes of Kanye West, Lil Wayne and Diddy.
Burna Boy's home is a two-storey building located on a serene 13,000-square-foot land in Lekki.
His architect, Akose Enebeli had constructed the two-storey Lekki house in which Burna Boy could simply be himself.
"…but the story of this home, and how it came to be, goes back to 2017, when Enebeli was in the middle of building a 10-bedroom mansion for former Manchester United striker Jude Ighalo (@ighalojude), and got a call from an unknown number," AD wrote in a post on Instagram.
Inside, the two-storey house boasts high ceilings, a private cinema, lounges, and a game room.
There's also plenty of garage space and tall windows.
Enebeli and his colleagues made sure to optimize for natural light in the 3,700-square-foot structure, which is divided into two distinct parts.
"One area houses a recording studio, gym, and bedrooms for guest artists. The other is a more intimate area for Burna. It's where he entertains his closest friends and where his own primary bedroom suite and private terrace are situated", reports AD.
"The downstairs rooms make for a continuous, free-flowing area, with one interior leading right into the next—sans doors. Of particular note is the main living room, which leads to a massive window overlooking the tended gardens. Overall, the compound evokes the serenity of the lagoons, creeks, and the greenery of the Port Harcourt region, some 384 miles away in Nigeria's Rivers State, where Burna was born. "I've got a lot of Rivers stuff, water sounds," Burna says. "[It's] just really water-inspired. It's peaceful. Nature speaks to me."