I Am Not Pregnant: Comedian Emmanuella Replies Man Curious About Size of Her Stomach
Kid comedian Emmanuella recently shared a video on social media and one of her followers made a comment that got her attention
– The comedian was spotted with some security officers walking behind her and she noted that she is at work
– A follower took to Emmanuella's comment section to say that he cannot see a bulging stomach
A young man called @official_emmolak recently got the attention of kid comedian Emmanuella on social media.
This was after she shared avideo that got her fans showering her with accolades on social media. In the video, Emmanuella was spotted with security officers as they moved slowly behind her.
The young comedian then noted that she was at work.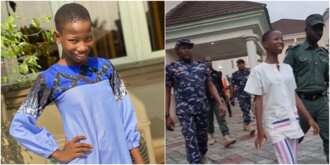 Comedian Emmanuella shares a video of herself with security officers. Photos: @officialemmanuella
@official_emmolak, however, stated that he could not see a bulging stomach.
Check out the video below:
Emmanuella spotted the comment and responded to it. According to her, it is obvious in the video she posted that she is not pregnant
Emmanuella further explained that @official_emmolak must have heard a rumour that she was.
Check out their conversation below: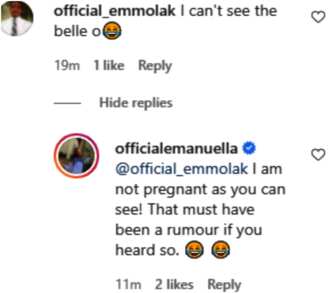 Comedian Emmanuella replied to a man who assumed that she is pregnant. Photo: @officialemmanuella