Why I called out Nedu on social media – OAP's ex-wife, Uzor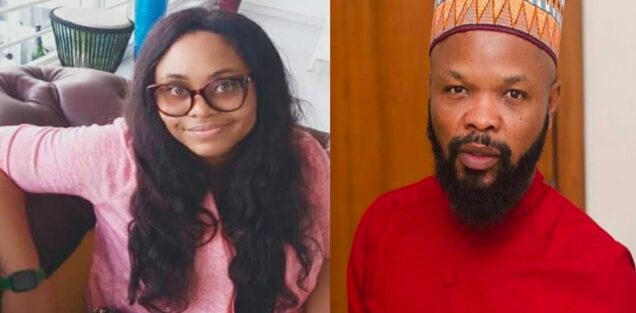 Uzoamak and Chinedu Ani
Uzoamaka Ohiri, the ex-wife of comedian and On-Air Personality, Chinedu Ani Emmanuel, popularly known as Nedu, has disclosed that she exposed him on social media to get his attention.
Uzor had alleged that the media personality battered her weeks after she had an operation and not catering for his kid via a post on her instastory on Friday night.
She questioned why Wazobia FM still allows her ex-husband to host marriage talks and shows even when he is one of the many men who beat their wives to stupor.
The comedian later refuted claims by his ex-wife and further accused her of being unfaithful, saying he discovered that he was not the biological father of her first son, as proven by a paternity test result.
In an Interview with Goldmyne TV, Uzor debunked Nedu's claims as she maintained that she was faithful to him during their marriage.
She said, "Do you have a bible? We all have Bibles on our phones, so I can swear and tell you that from the day he walked into my life and till the day he left, I was never with another man."
Speaking on the reason she brought her issues to the public eye, Uzor said it was because of her children.
"Honestly, I am not bothered and this is not the reason I am speaking up. I am speaking up for my kids, my girls; I am not here to defend myself or to say I cheated or did not cheat," she stated.
She continued, "People saw my post on my story; they saw my bloody nose, they saw my arm. The point was not to tell you people he was beating me. The point was to get his attention.
"I've been seeking his attention. I've been trying to get him to speak with me. I have texted, gone to court, tried to reach out to people that know him. I have gone to feeder; if they check their DM, they will see me there. I don't know why it takes a long time for some of these organisations to respond.
"So, I have been screaming for a very long time; it did not just start today. I made the move and put up that post to get his attention and I knew I was going to get it. I knew the card he was going to play next because that card he played is not a secret."