Nigerians React As Boko Haram Commander 'Marries' Daughter Of Fulani Herdsman (Video)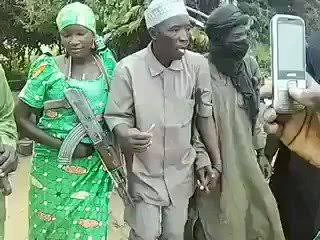 On social media, a viral video of an accused Boko Haram commander marrying the daughter of a Fulani herdsman has sparked a flurry of comments.
According to NEWS DIRECT, a video uploaded by Femi Fani-Kayode, the former minister of aviation, showed some men dressed as members of the feared sect and a young lady joined in dancing by her Fulani parents.
In the barely two-minute video clip, guns and cutlasses are on exhibit, prompting a flurry of reactions on Twitter.
Sharing the video, Fani-Kayode wrote: "Boko Haram commander marries the daughter of Fulani herdsman in Sambisa forest. What a combination!"
See the video below:
However Nigerians took to the comment section to react to the video FFK posted.
See reactions below:
@adamsydph wrote: "I am 100% sure this is not BH marriage"
@go_etch wrote: "Garba shehu and the AGF malami will not utter a word on this video.. but if a ban on open grazing surface like this online, you will see their ugly faces"
@DaudaAzeez1 wrote: "This act of terrorism ain't religion but capitalism at its peak. Politics at work"
@fomeozuwo wrote: "This is the sad reality of women in Boko haram held territories. They simply don't have a choice. It is worse than being with the Devil and the deep blue sea. It is being between with Devil and hell."