Super TV CEO's family petitions IGP Baba, seeks new probe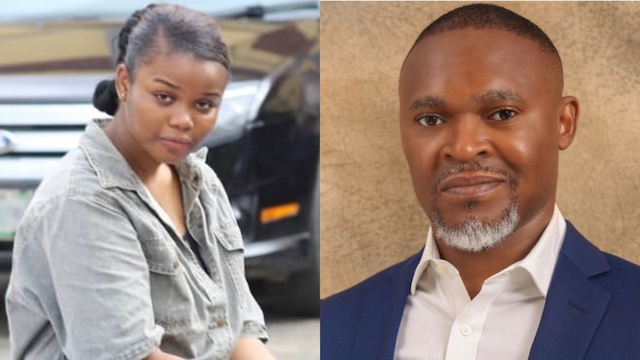 Chidinma Ojukwu and Super TV CEO Usifo Ataga
The murder case involving Usifo Ataga and Chidinma Ojukwu is gradually taken a new turn as the family of the late Super TV Chief Executive Officer continues to demand proper investigation into the matter.
The family of Ataga, through its legal counsel, Mike Ozekhome, has now petitioned the Inspector-General of Police, Usman Alkali Baba, to re-investigate the circumstances of the murder.
This came few days after the family accused Lagos State police commissioner, Hakeem Odumosu of "attempting to protect the killers of Ataga."
However, in the new petition to the IGP, the family again faulted the one million naira bail granted to Chidinma's father and one Babalola Disu, another suspect in the case by the magistrate court.
The family alleged that Disu is "highly suspected to have carried out the murder".
The family also alleged that the police, without obtaining legal advice from the Directorate of Public Prosecutions, arraigned the prime suspect, Chidinma Ojukwu, and other suspected accomplices, at a chief magistrate's court, which had no jurisdiction over murder cases.
The petition through Ozekhome reads that "The family premised its suspicion on information it had to the effect that Disu's short rental apartment was directly opposite the apartment where Ataga was killed.
"The family narrated how the said Disu had asked that the carpenter of the Air BnB short service apartment should be called to fix his door, only for the carpenter to be told that it was actually Ataga's door that was broken.
"The family said it also suspects the said Disu for having a hand in Ataga's murder because of the manner in which he disappeared from the service apartment and wondered why he was charged for mere obstruction and failure to report a crime, thus being granted bail in the ridiculous sum of N1m only.
"Why did Disu obstruct police investigation and over what crime? How did he do so? What crime did Disu fail to report to the police for which he was now charged? Was it the murder case? And if so, how was he connected to it and under what circumstances did he know about it? The Ataga family needs answers," the petition said.
Ozekhome stated that the family demanded re-investigation of the entire murder case.
The family also wants all findings to be handed over to the Lagos State DPP to formally re-arraign Chidinma and other suspected accomplices.
"These are the persons of Babalola Disu; Ojukwu – Chidinma's alleged father or sugar daddy; Jessica Egbochi; Abayomi Olutayo; and, Ifeoluwa Olowu; and any other person(s) whom the police investigation may still throw up as having been linked to Ataga's cold-blooded murder," the petition added.