Photos: Mixed Reactions As Punch Released New Cartoon Flakes About The June 12 Protest
The National Association of Nigerian Students (NANS) on Tuesday has declared the popular June 12 known as Democracy day to be a nation-wide protest.
June 12 day initially as well know is used to celebrate the day Chief moshood Abiola won the first and only free and fair election in Nigeria but he was denied power to rule by the military ruler in power then. Some years ago, this present administration decided to shift the democracy day celebration to June 12 in order to mark the victory of Abiola.
However, due to the stages of insecurity, poor education, lack of health facilities and lots more, the national association of Nigerian students (NANS) decided to make June 12 a protest day as they call upon Nigerian government to do something on these problems.
However, Punch newspaper as we all know creates cartoon flakes that depicts the current situation the country is. Which is why the Cartoon flakes I'm about to share with you guys is all about the June 12 Protest and how the Nigerian Politicians are preparing.
See Cartoon Flakes Below: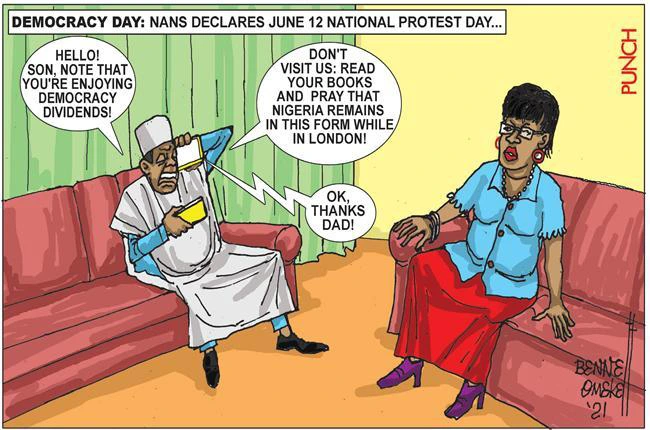 From the conversation above, you'll get to understand that this supposed Northern politician is trying to protect his son who is abroad, telling him not to come home (Nigeria).
A lot of reactions reactions as seen this as corruption and it explains the overprotective measures these politicians have their children but normal Nigerian citizen is never their concerns.
See Reactions Below: