We'll soon rollout 5,000 Fulani vigilantes to 36states Govs trying to ban open grazing are daydreaming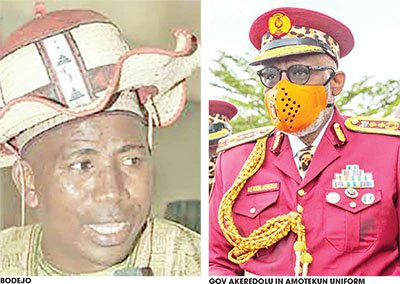 I'm surprised that a serving governor is telling lies. He lied to his people over the activities of Miyetti Allah, but at the end of the day the security people arrested Junkun people. That is the concern of the security agencies that know the truth. I call on Nigerians to ignore Governor Ortom over the way he is damaging the names of Fulani and our organisation. Our organisation has already dragged him to court over the antigrazing law. We went to court to order him to repeal the anti-grazing law. Before the court gives its judgment, we are urging him to remove that law because it is not bring- ing peace in Benue State. Tiv and Fulani are brothers and they have been doing business together for a long time. Tiv people have be- stowed an honour on me, but Ortom is mov- ing from one place to the other damaging our name. He is trying to make people see Miyetti Allah as a bad organisation. Our secretary and typist, Jennifer, is a Tiv girl from Gboko. I have a very good relationship with Tiv people.
These Southern governors are trying to join Ortom in damaging the image of Fulani. They don't mean well for this country. As the governors have done one term and in the mid of their second term, they have start- ed playing politics by talking about fighting bandits and setting up security outfits when the police, military, DSS are there to tackle the bandits. I believe in one Nigeria; I believe that I can go to Ebonyi, Edo, Ekiti and start rearing my cow business, but I'm surprised now over what is happening. Some of these people doing this and calling Fulani names don't know the history of Nigeria. Before oil, Fulani were doing so much to contribute to make this country have resources, have money and be great. But somebody who doesn't know the history of Nigeria will start talking down on the Fulani. Do you know the Fulani, go all over the states, all over the 774 local governments you can see Fulani people carrying out their business activities.
Benue has banned open grazing, South- west has done so too and then Southeast, what do say to this?
They are just day dreaming because nobody can ban open grazing. Because you are a governor, you can't just wake up say, 'I ban open grazing' so that the Fulani herdsmen can't see where to graze. These herds- men are all over inside the forests and nobody can know how many they are; they are so many. You can just deal with what you are seeing. These governors cannot because of politics be coming up with unacceptable policies. They will get tired very soon. These governors doing this are not performing in their respective states; you can't see any tangible projects they are carrying out in their states for their people, but they want to do politics with Fulani name. It is not good and very soon they will be former governors, thereafter, the Fulani in their numbers will go back to their normal businesses.