How Davido had to beg DJ to stop interrupting his performance cause he didn't greet him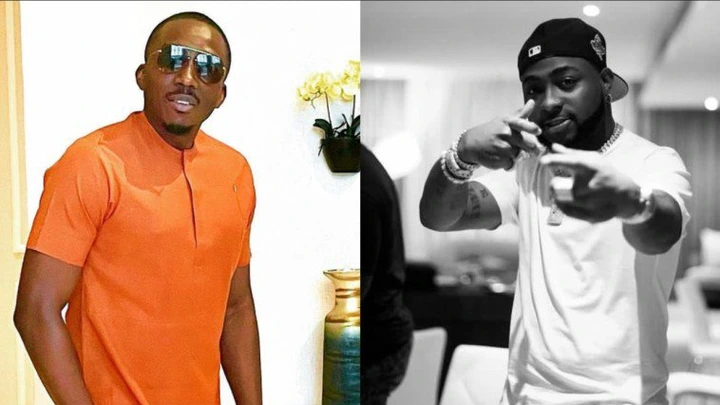 Ace Nigerian comedian Bovi, has revealed an experience that he witnessed concerning musician Davido while he was still an upcoming artiste.
Bovi who celebrated with the musician on his 10th year anniversary in the industry disclosed how Davido had tried performing as an upcoming artiste but kept getting cut off by the DJ who had an issue with him because he hadn't greeted him upon entering the club.
He narrated how Davido had begged the DJ to let him continue but had to eventually leave the stage.
Read his narration below:
Davido walked into koko lounge with a few of his friends. Then the 30 billion gang was still in its embryonic stages so the small venue could accommodate his entourage.
Koko lounge was the biggest comedy club by reputation and Wednesday's were the best comedy nights. It was such a famous Wednesday, many artists came to perform their new hit songs just to market to the organic audience. If they vibed to your new song, the artist was sure the song was gonna be a hit.
Dami Duro had just dropped. So with Daviwalking into the lounge, people were already excited. He waltzed through the ecstatic audience to the vip section to take his seat while trying not disturb the comedian that was on stage. We all sat to watch the show In Anticipation of davidos performance. The time came and he hit the stage.
The atmosphere was frenzied, everyone was on their feet as the famous beats of the song gyrated the speakers; we were drunk and screaming, the girls lost their home training, the boys lost their manners! As everyone pranced and danced, the unthinkable happened…. unplug. The dj set went off. The pissed off dj deliberately switched it off. His gross was "davido no greet am when he come" A miasma of anger filled the air. The audience went from happy to irate. Davido surprisingly was still begging this dj. This was a room of about 45 loyal Wednesday customers eager to party but One dj said, "davido no greet am" . @buchicomedian angrily instructed that the music came back on.
They were ruining his clubs reputation, he warned. The music started again and as if it hadn't even started before, the hall exploded with ecstasy. One didn't need to be drugged to be caught up in this mood.
Davido doubled his energy and his infection spread across the room. Then it happened again. The dj unplugged his set, again! There was this brief silence and then loud protests. Oga dj was hell bent on sabotaging the "small boy wey no get respect". And that was how the evening ended abruptly. I remember assuring the dj that he'd be fired in the morning.
Well, the most important part of the story is that Davido left and went on to become a superstar. Happy ten year anniversary @davido