After A White US Soldier Assaulted A Black Man, Angry Black Americans Gathered In Front Of His House
A US Soldier named Jonathan Pentland got more than he bargained for after a viral video that has been viewed over 3 million times showed the moment he assaulted a black man for walking around in a "wrong neighborhood." In the viral video, Pentland tackled a young black man for walking around the neighborhood, he asked the black man to walk away because he shouldn't be in their neighborhood. The man replied and said that he is just walking around the area because he lives there, the soldier didn't believe him, he threatened to move him away by force if he doesn't leave because he is in the wrong neighborhood.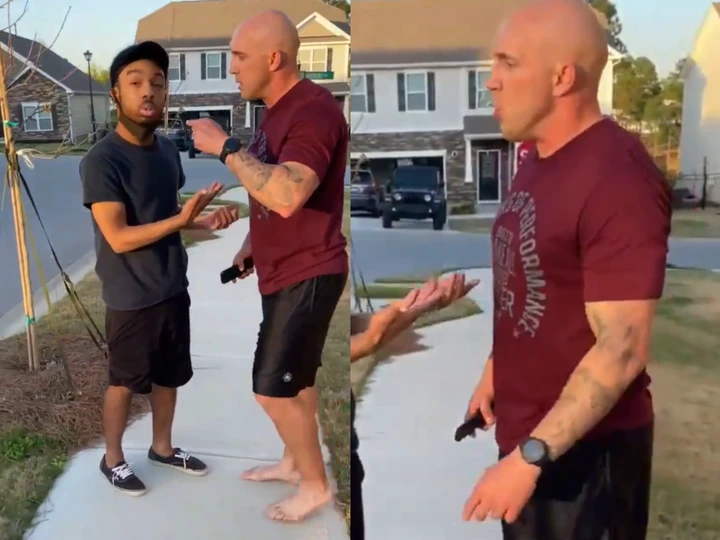 This video went viral and Black Americans weren't happy to see how a black man was harassed by a white man, who is also a US Soldier. Angry Americans gathered together and traced the neighborhood that Jonathan Pentland was living, they traced his house and in a couple of hours, hundreds of angry Black Americans were at his house, daring him to come out and face them just like he faced a black man in the video.
SEE PHOTOS THAT SHOWED BLACK AMERICANS MARCHING DOWN TO HIS HOUSE BELOW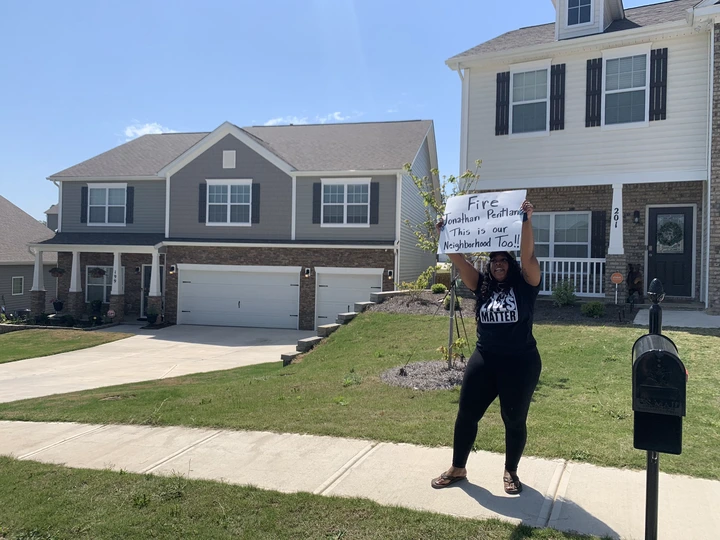 (A Black Lives Matter protester standing in front of the US soldier's house)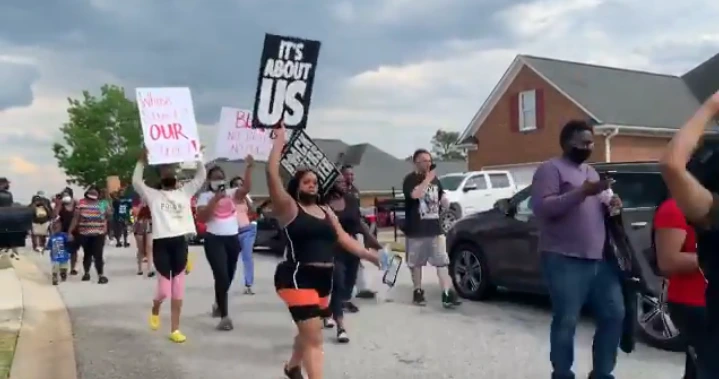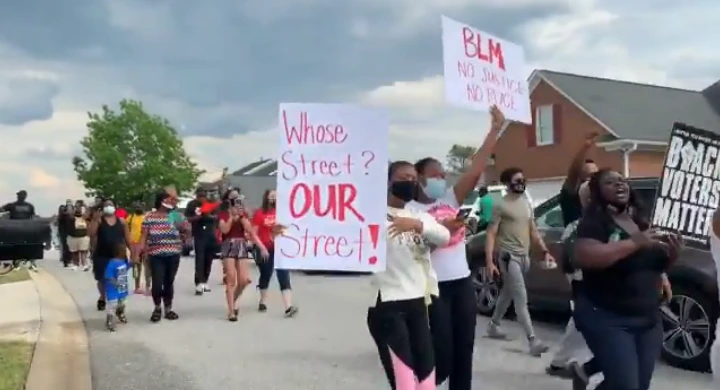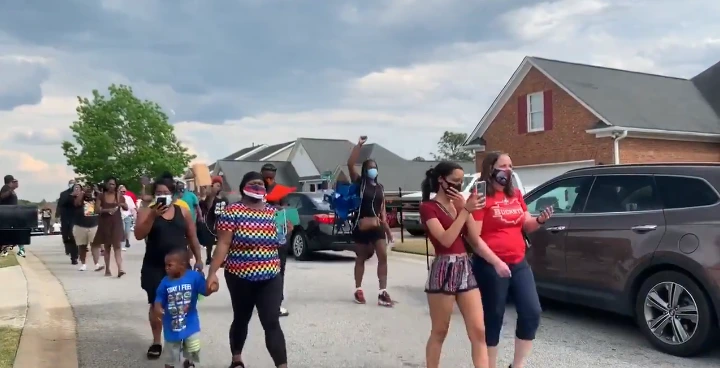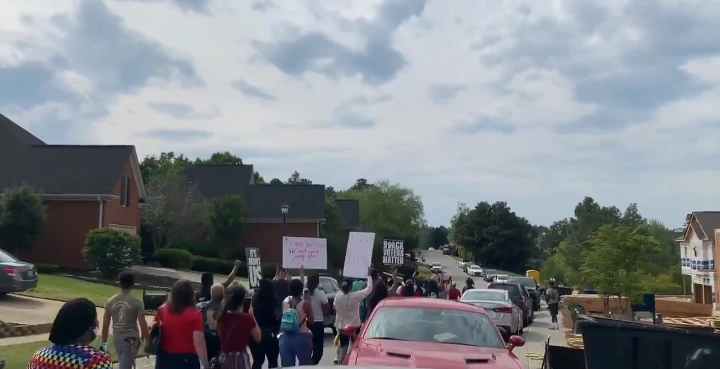 (Angry Black Americans matching down to his house)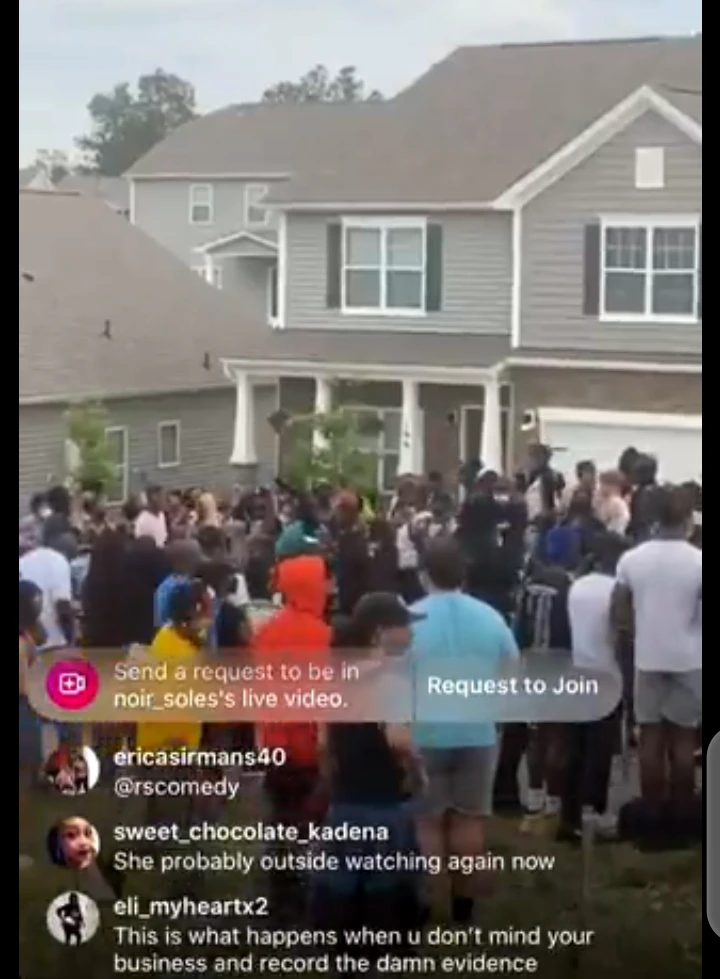 (Large gathering of Black Lives Matter protesters in front of the soldier's house)
MORE ABOUT THE VIDEO
The video touched a lot of Americans including Whites who felt that its totally wrong to assault a young black man like that. In the viral video, the man was very calm with him even though Pentland pushed him multiple times.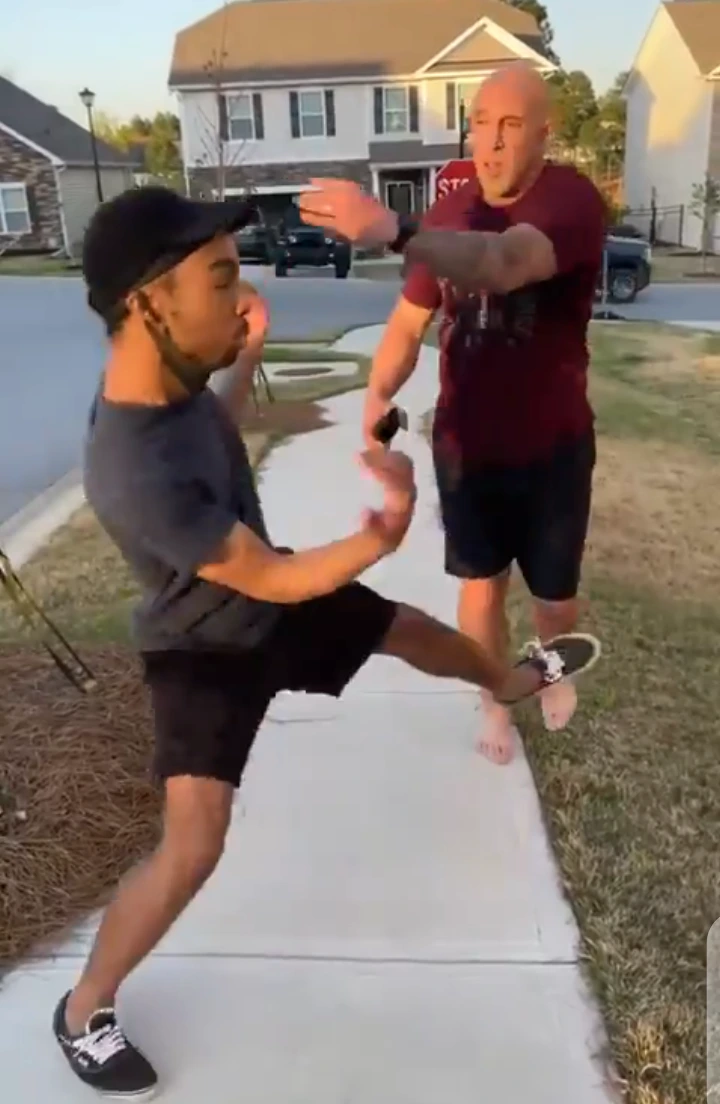 "Walk away from here, you either walk away or I'm going to carry you out of here right now. What are you going to do if I touch you? I'm about to do something to you if you don't start walking. You are in the wrong neighborhood and you are harassing the neighborhood. You better move or I move you," the US soldier blasted the black man.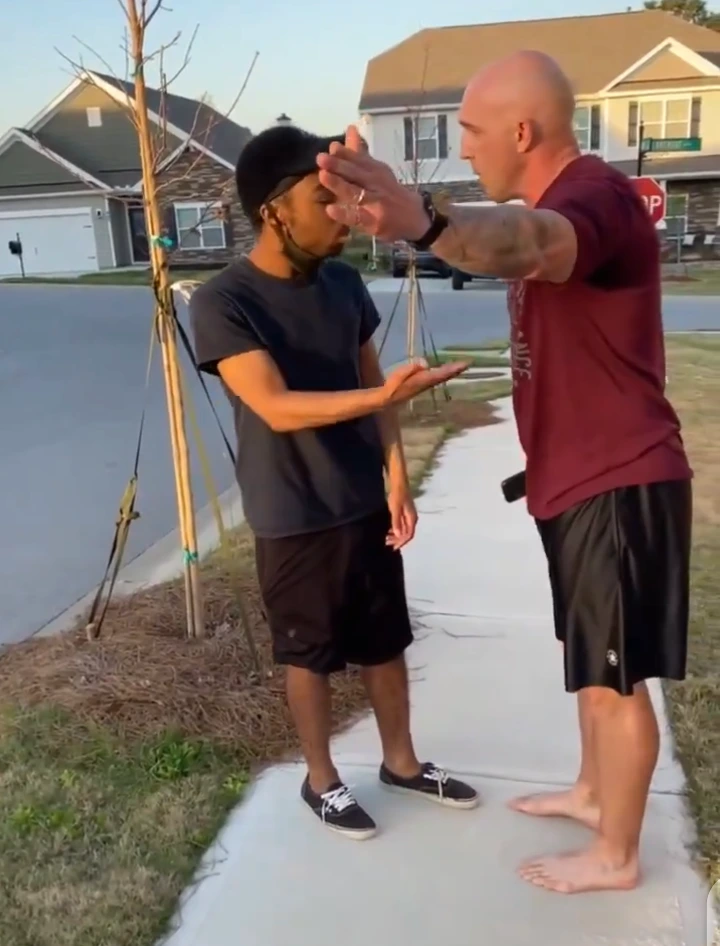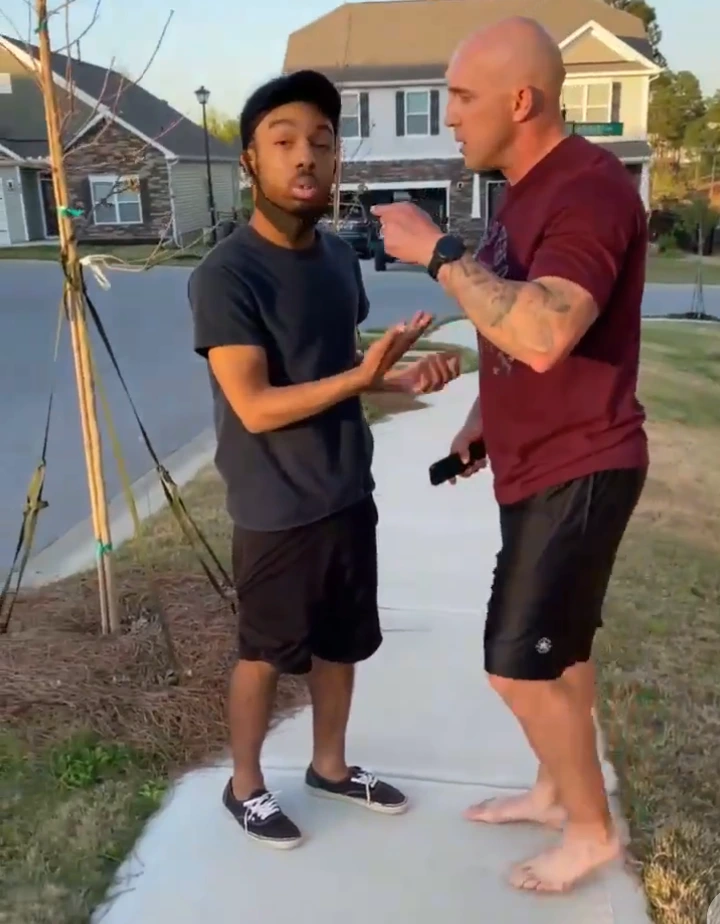 The Arrest Of Johnathan Pentland
Once Black Americans are angry over a situation that is affecting blacks, things always move in their favor. According to a report confirmed by THE INDEPENDENT UK, the US soldier has been arrested and charged with third degree assault. The charges carry a fine of $500 or 30 days in prison.
You can watch the video below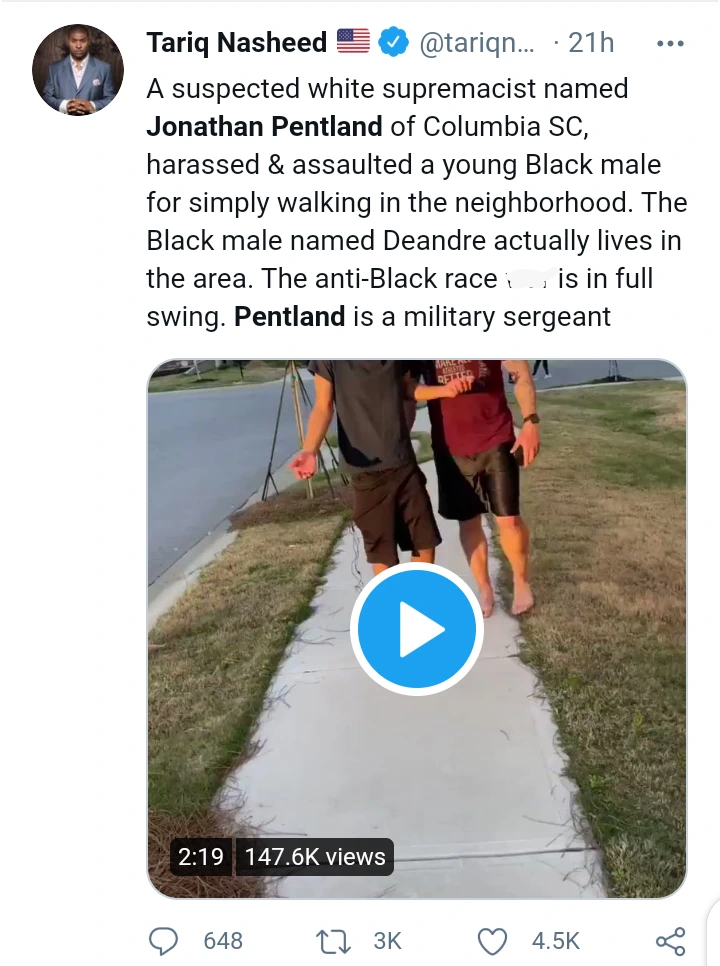 The original source that posted the video has recorded over 3.4 million views within 24 hours.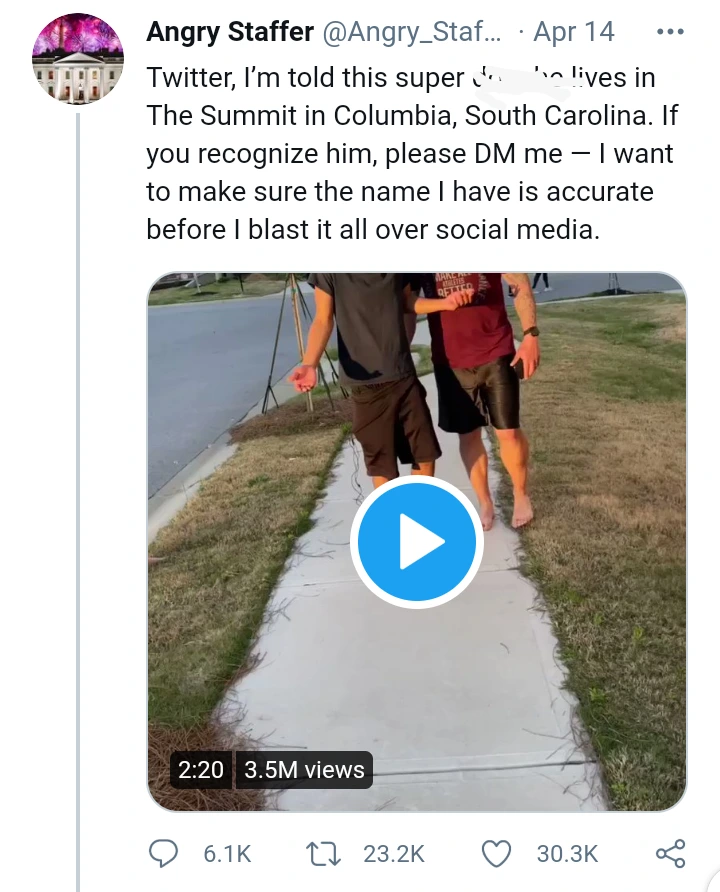 It's really sad that black people are still facing this issue of racism. Do you think a fine of $500 or 30 days in jail would serve as a warning to Jonathan Pentland if he is found guilty?